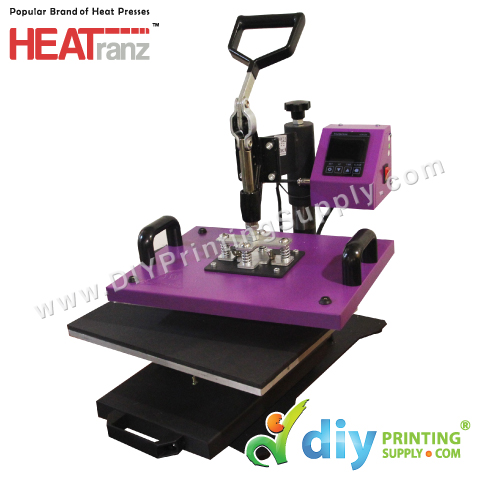 Heat press machine is a popular machine for gift printing business owner.  This machine is used to transfer a design onto gift products such as t-shirt, hats, ceramic plates etc. The function is similar with ironing but by using heat press machine, you can save time and human energy.
Normally heat transfer take less than 5 minutes to transfer a design onto product. Before transferring process, prepare the machine by make it warm to suitable temperature. With DIYPrintingSupply.com,  we will guide the appropriate temperature in the user manual's (comes together when you purchase the machine).
In DIYPrintingSupply.com we supply 4 types of heat press machine which is Digital Combo Heat Press, Digital Flat Heat Press, Digital Mug Heat Press and Digital Cap Heat Press. The different between this four machine is in the way it's transfers and heat the design onto the gift product. Using the right temperature, is a must and critically important as it will portray onto the end product. Other than temperature, kind of ink and paper use also is an important element to make the image is clear, sharp and excellent quality.
We in DIYPrintingSupply.com, offered a high quality of heat press machine and it comes together with printing business package. Browse to our website or contact our sales team for more details about DIY Gift Printing Business Package:
START YOUR PHOTO GIFT BUSINESS WITH DIYPrintingSupply.COM
CONTACT US TODAY!!

~ Customer Satisfaction is Our Priority ~