Intro – Mug Printing Business
There are many "big" suppliers or manufacturers out there in the market who providing mug printing services.
However, most of them are providing decal printing on mugs that have advantages & disadvantages below.
Advantages:
– lowest printing cost
– able to print on different types/shapes of mugs
Disadvantages:

NO PERSONALISATION is possible. All mugs are same design/colour printing
LARGE order quantity (500 or above) is required. Of course the lesser quantity, the more expensive it is
LONG delivery timeline
HIGH startup business investment

LOW-profit margin
Thus, if we have a mug printing business ideas that have advantages below to fulfill the market demands, would you be interested?
PERSONALISATION on each mug (different name or photo printing on each mug)
SMALL order quantity is allowed (as low as one unit), suitable for door gifts for party, reunion, seminar etc
SHORT delivery timeline (print one mug in 3min)
LOW startup business investment (start your mug printing business in RM1, xxx only)

HIGH-profit margin due to personalisation (you are not selling mug, but selling concept)
If you are interested, read it on.
Heat transfer printing is the best choice! Let us calculate the profit for mug heat transfer printing with a white mug as an example.
Case Study: If you are selling WHITE MUG with personalised name or photo printing company as corporate gifts.
COST PRICE (CP)
Cost of Blank Mug: RM4.00
Printing: RM0.35
Total Cost Price: RM4.35
RECOMMENDED RETAIL PRICE (RRP)
Suggested Market Selling Price: RM27.00
GROSS PROFIT 
= RRP-CP
= RM27.00 – RM4.35
= RM22.65
EXAMPLE QTTY ORDER: 250pcs
PROFIT: RM5662.50
Interested in making RM5662.50 with Mug Printing Business?
Hot Mug Printing Business by DIYPrintingSupply.com as per photo below!!!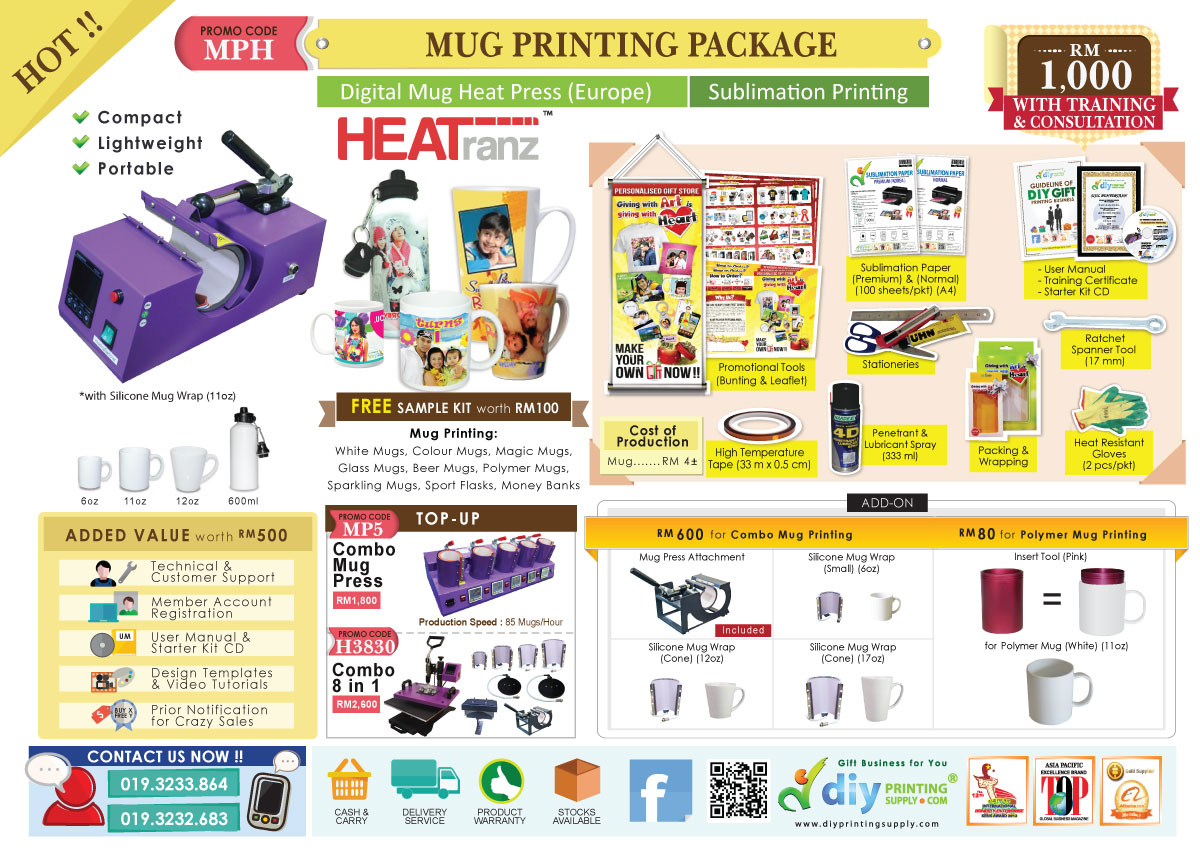 Generate More Income with Mug Printing Business
With DIYPrintingSupply.com Today. CALL US NOW!!!
~ Customer Satisfaction is Our Priority ~
Interested to start your own business?